Reminder that today, the seniors will "walk the halls" of the schools in town. If you need a ride we are leaving NCS at 8:15 or you can meet at Washington at 8:30. See you soon!

The Senior Parade will be Thursday, June 1, at 5pm. The starting point is the Community Gym. The route will wind through the projects. A map of the route is attached.

Seniors only 2 days to go! Please check your email for important dates and information.

Bake Sale at Nixyaawii Governance Center June 1 from 11 - 1. All proceeds go to the Nixyaawii Community School Alaska trip. Baked goods prepared by the Nixyaawii Community School Foods class.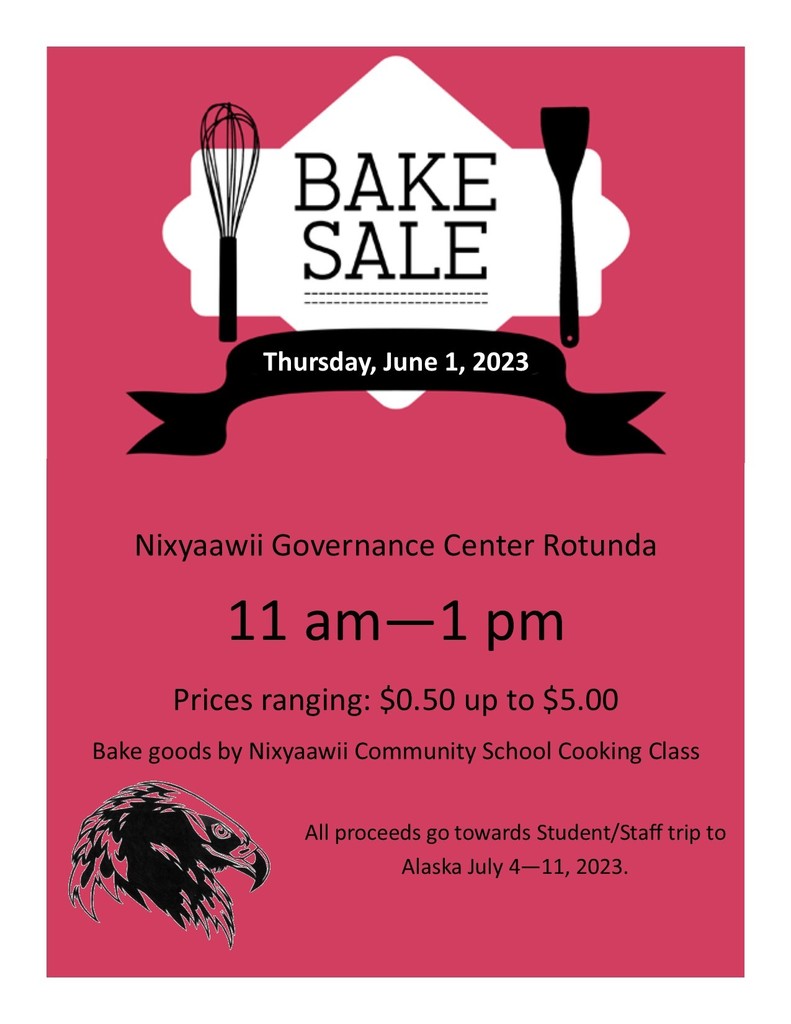 Tickets are on sale for an Alaska Trip Raffle, $1 each or six for $5. Purchase tickets from Aaron Noisey at Nixyaawii Community School. Drawing is June 30, 2023, at noon.

50/50 Square Fundraiser for Nixyaawii Community School Alaska trip. $10 a square. Purchase squares from Aaron Noisey at Nixyaawii Community School.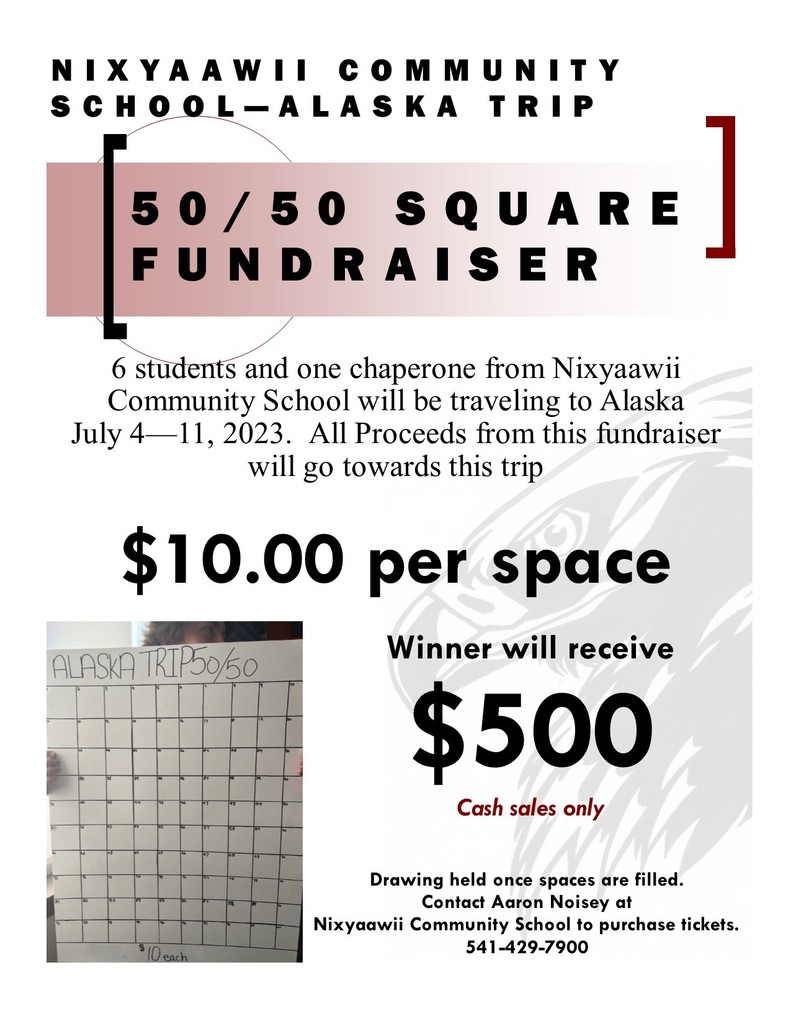 The State Track running events, and possibly the throwing events, are being broadcast on NFHS Network. Our first race is at 1:54 today, followed by javelin at 2.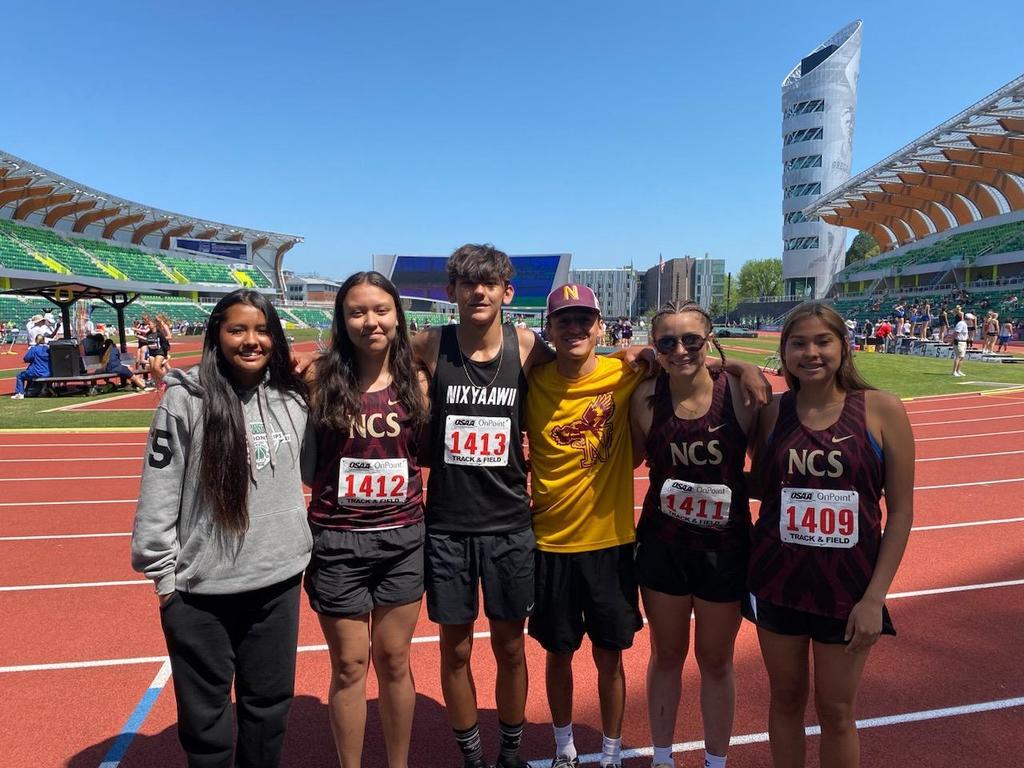 Congratulations to our track and field athletes that have advanced on to state. Mersayus Hart (100 and 200m district champion) Alayna Bevis (400m runner-up) Kyella Picard (javelin district champion and 3rd place shot put) Ella Stewart (3rd place javelin) Landon Picard (2nd place high jump) These student-athletes will compete Thursday and Friday at Hayward Field in Eugene.

Hanging flower baskets and herb baskets for sale by the horticulture class. $20 each. Today, 5/18/23, is the last chance to buy before 3:30.

Today at NCS we were testing our panic/lockdown button. It was only a drill.

Reminder we have conferences tonight, senior parent meeting, Future Golden Eagles Night, and a plant sale going on. All of this with a taco truck on site, NCS gear to give away, and Mission Market Cash cards! Let's Go!

Wrong date! It is Thursday 5/11 we will have a lot going on at NCS. Conferences from 3:30-7:00. Senior parent meeting 5:00-5:30. Future Golden Eagle Night 5:30-6:30. School Board Elections noon-6:30. We will have a taco truck on sight and we will be giving away NCS gear throughout the night.

Friday, May 5, is a regular day of school for all students.

SAVE THE DATE! Future Golden Eagle Night will be Thursday May 11th from 5:30-6:30 at Nixyaawii Community School.

Two school board member positions will be open for the four year term of July 1, 2023 to June 30, 2027. Applications to apply for a position are DUE THURSDAY, April 20th, by 4pm, to
rheinrich@pendletonsd.org
, or at the main office of the school. Applicants must meet one of the following criteria: * a parent of a current student * an employee of Nixyaawii Community School * an employee of the CTUIR * an enrolled CTUIR tribal member * current resident within the boundaries of the Umatilla Indian Reservation. Applications are available on the School Board page of our website.

Below is a link to apply for a $1000 CTUIR Community Scholarship.
https://forms.gle/rQUp6g5RuzzcuTHR7
The Nixyaawii Community School Board of Directors will be awarding two, $1000 scholarships to current Seniors who will be furthering their education through vocational training or college. The application deadline is May 17.

Tonight's basketball games, Wednesday, February 8, are at Stanfield High School at 3, 4:30, 6, and 7:30.

Nixyaawii is teaming up tonight with Stanfield at the basketball games to raise money for Suicide Prevention. A coin drive and gate sales will go to Umatilla County Mental Health and Yellowhawk Tribal Health Center. Other fun events are Basketball Musical Chairs, Heads and Tails, and Half Court Shot. Games are at 3, 4:30, 6 and 7:30.